---
In a major improvement to our web site,
you can now click on a picture to see an enlargement.
Pontsticil
We drove to Wales without much of a plan. This approach leaves Yannis very nervous (For the record, it doesn't make me nervous, I just don't like spending a lot of time wandering around trying to find a hotel). However, we happened upon the lovely village of Pontsticil, in the Brecon Beacon just up hill from the city of Merthyr Tydfil. We had a self-catering 3 bedroom, 2.5 bath house - with breakfast! We highly recommend it to anyone heading towards Wales.

The road to Pontsticil (actually this is the road back down to Merthyr from Pontsticil)

The old railway line from Cardiff to Brecon has been converted to a walking path, this bridge was on the section that we explored just down the road from our house.

Tasha serenades the sheep! (Do you like her new pocket trumpet? It's blue!)

Did I mention that our house had a washer?

The Cyfarthfa Castle in Merthyr Tydfil

Locked up in the Cyfarthfa Castle in Merthyr Tydfil.

The playground behind the castle in Merthyr Tydfil. (A far bigger hit!)

The huge old bridge in Merthyr Tydfil

We never could find the entrance to this bridge driving. Finally, Yannis couldn't stand it any longer. He parked the car and wandered up on to the bridge, which is only available on foot.

Tasha and Anika climb the hill, scaring off all the sheep! It was a big hill! Do you see them on the left?
---
Our next stop - Talybont on Usk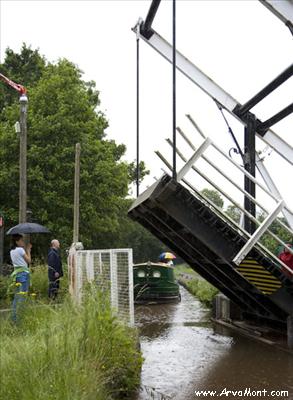 This is a draw bridge over the canal next to our B&B. Someone from the barge has to come on shore to raise it and lower it.
The cemetery at Llanfrynach was cool looking with massive trees and ivy covered stones. This door is also in Llanfrynach and caught Yannis's eye.
Driving in the Brecon Beacon requires continuous vigilance, as these are 2-way streets! These weren't isolated occurrences. This is what many of the roads off the motorway were like.
Horseback Riding
Yannis had a horse that liked to go slooowwww - so he was always trailing way behind! Newenka's horse 1) was gassy, 2) hated walking through mud and went to great lengths to try to avoid it. When forced to walk through mud, he made a great, loud show of stomping the mud off his feet once back on firm ground. Anika and Tasha report that their horses loved to trot.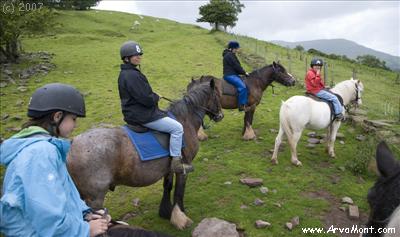 Caerphilly Cassel
This was one impressive castle. It was double moated and still had fortifications on the inside tower!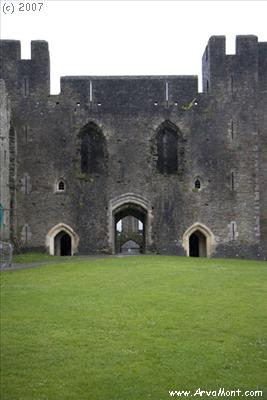 This is where the Prince of Wales is crowned
Cassel Coch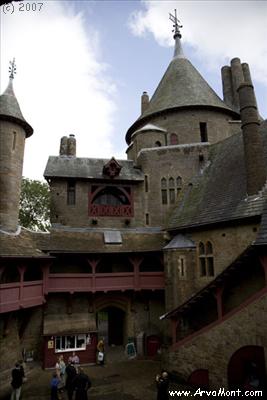 This is the fairytale castle - a rich man bought the it in the late 1800 and fixed it up for his new wife...
The day we were there, they were preparing for a wedding, and a lovely harpist was playing in the chapel.
Caerleon Roman Amphitheatre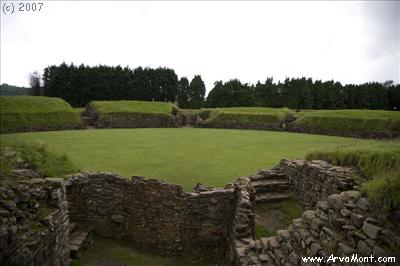 This old Roman amphitheatre sits unassumingly next to a farmer's field. It was built in 90 A.D. and used until the Romans withdrew in 290 A.D. It had an excavated center, and the dirt banks were used to support the first several rows of seats. Additional seating was constructed of wood, and would have been huge - they estimate that more than 6000 people could watch the activities in the Amphitheatre.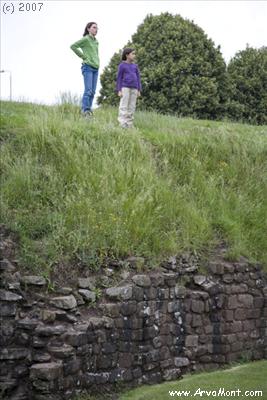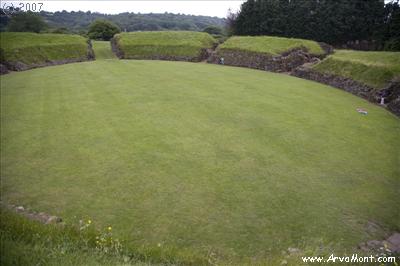 The kids scoped it out and then held their daily PE session in around the perimeter.
---
Strictly speaking, we are back in England, but these pictures will flow better here, so my apologies to the perfectionists in the audience.
We had planned our visit to Stonehenge to be on the summer solstice, since at daybreak the rising sun passes through two stones and illuminates the altar stone. That would be cool, huh? Then, as we were driving from Wales, we heard on the news that 23,000 people had been at Stonehenge overnight to watch this very event!! (And, this being England, it was overcast and drizzly.) We were sad to have missed it, but not really given the idea of joining 23,000 others to hang out in the rain and cold! Funny that our calendar back home said that the 22nd was the solstice, while here it was the 21st. (Of course in school we learned June 21, but that all changed after the millennium and I always attributed it to the lack of a leap year in the year 2000.) Oh well.
Our
first glimpse and impression
"We just cruised by Stonehenge! Wow!!! You come up and over this hill and then there on the top of the next little crest sits Stonehenge in all its glory!
"Of course you can't find the camera until you have come down form the crest and then there is a truck in the way and then you are so low down that the trees block your view and then the hill itself stands between you and finally you park the car on the shoulder and you have to stare at Stonehenge through a very ugly, tall, green, chain-link fence, because it is 19:05 and Stonehenge "closes" at 19:00"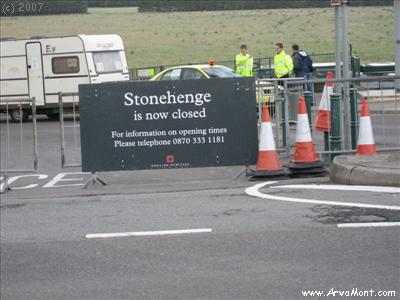 Lucky for us, we came back the next day. :-) And this time, we were ready for that view off the hill.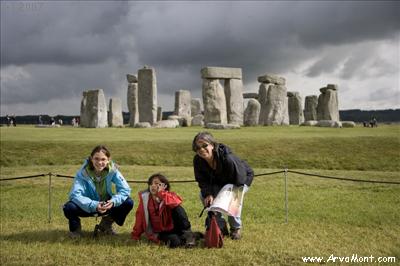 Survey
Now for a little survey - choose your favorite Stonehenge picture by clicking the > next to you choice. This will issue an email indicating your choice. If you like, you may elaborate on the reasons for your choice, though this is strictly optional. Remember, you can click on the photo to have it enlarged.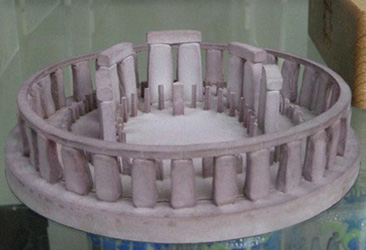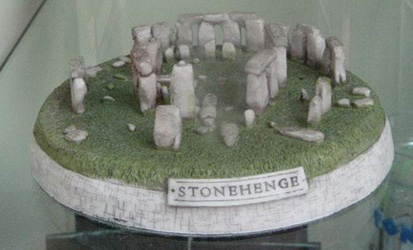 For the curious - the presumed final stage Stonehenge versus the current Stonehenge (from opposite sides).
From Stonehenge, we headed to London Heathrow to catch a flight to Russia.
---