---
We traveled to Finland on the train from St. Petersburg.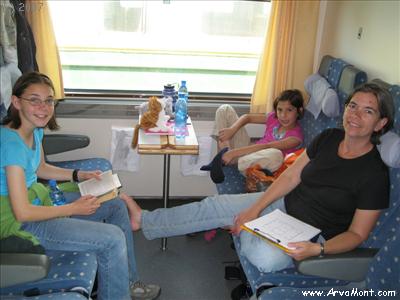 Pasila
We stayed in an area of Helsinki called Pasila. This area is a series of low-rises, connected by second story walking and riding paths. The local convention center is located here as well. I wonder if this might have been the Olympic Village, as the Olympic stadium and swimming pool are nearby.

Out for a stroll one day, to let Tasha play her horn

look what we found:

Another day we rented bikes, and rode and rode and rode through the park in the center of town, at least we thought it was a park at the center of town. When we left the park in search of a snack, we were not in a town any more!

These picture are all BF (before the fall that left Tasha's hands all scratched up!)

And while we were out, look what they did to our hallway at the hotel. It has been like this ever since. Furthermore, you have to squeeze past the electricians and the painters in order to get down the hall!!! So much for being on the "Executive Floor" of the Holiday Inn :-/
Helsinki

The Helsinki Zoo
This zoo has an entire island to itself. (Okay, it is a little island.) To get there you grab a ferry from the harbor! The zoo is a small one, but that did not deter us from having a great time. Anika crazy about the baby birds. We saw goslings, ducklings, peafowl chicks and more! The highlight was a peacock showing off!

From atop the observation tower.

Taking a break.

An elephant shrew.

An Emu and a reindeer!!!!

Above: Anika's peacock photos!
Tallinn, Estonia
It is a short boat ride across the bay of Finland to Tallinn, Estonia. Tallinn is very different from Helsinki. It has a majestic old walled city just waiting to recive visitors. For these photos see our Estonia page.
Suomen - the Sea Fortress