Chicago Sandblast 2010
Day 1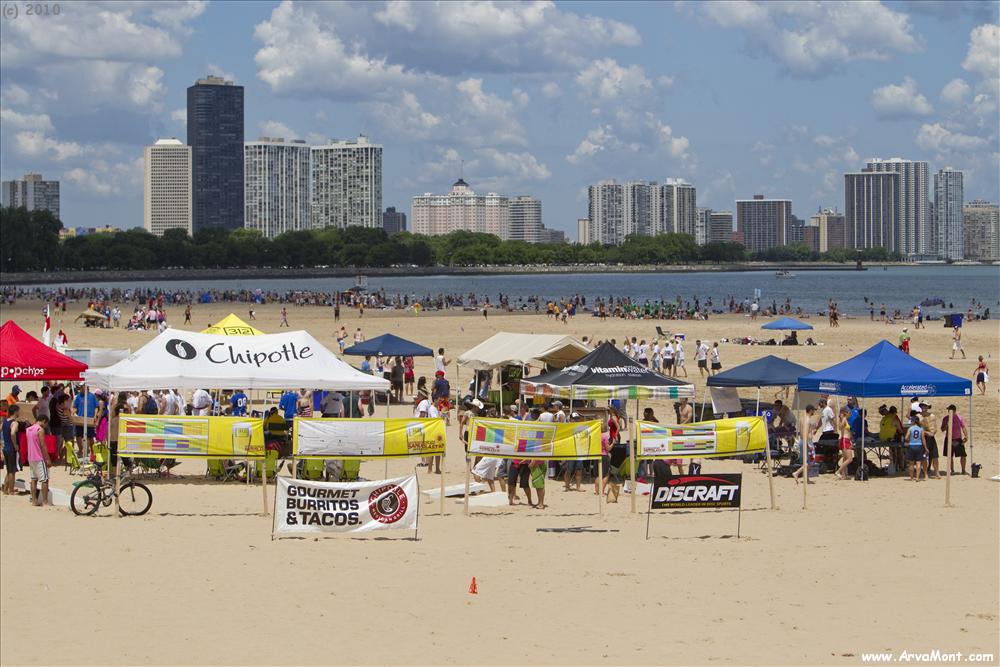 With Chicago's lakefront and northern skyline as a backdrop, the Sandblast 2010 tournament was an excellent place to spend a summer weekend.
Tasha was invited to play on a team, so off we went back to my old stompin' grounds (I grew up about a mile away from Montrose Beach).
This was our first time playing/photographing beach Ultimate - Tasha thoroughly enjoyed it, and I found it to be a fast and exciting variation of normal Ultimate. The games at the tournament were played on a slightly smaller field, 5 players per side, and the sand added to the excitement both in terms of more layouts as well as visually (flying sand gives some of the images more 'oomph').
We've posted some of our favorite images from the tournament.
While they're mostly from games Tasha's team played, I can't resist creating images from other interesting happenings going on around me, so there are some miscellaneous ones mixed in.
---
(Clicking on an image below will bring up a larger version of it.)
| | |
| --- | --- |
| | |
| | |
| | Still trying to get a good layout shot of my daughter - for some reason, she just never faces the camera ;-) |
| | |
| | These guys (& gals) in underwear were just having a blast throughout the day - though I kinda wondered what the couple in the background were thinking :-) |
| | |
| | |
| | |
| | |
| The "shady coach" ;-) | Not quite - but a good effort. |
| | |
| | |
| Awesome layout! | The landing...not as graceful, but he held on for the point. |
| | |
| | |
| | |
| | |
| | |
| Floating gently back to earth | |
| | Interesting defensive use of one's hat :-) |
| | "Balloon Man" |
| | |
| | The Red Stripe Lair - everything you might need for a day of ultimate at the beach...including a bubble machine! |
| | |
| My camera thought it would be fun to compose an image with the background subjects in focus - I thought it was an interesting result. (ok, I admit - the camera can't think, and in this case, I couldn't quite aim ;-)) | |
| Medic! This man has a disc stuck to his head! | |
| | |
| Defensive bid | |
| | |
| | |
| | |
| | |
| | Keeping the toes inbounds. |
| | |
| | |
| | |
| | |
| You want me to shoot what?! ;-) | |
| | Defensive bid - and catch. |
| Ouch...cramp! | A good use of the Red Stripe stretcher. |
| | |
| Post-game interviews? | |
Images from Sandblast 2010, Day 2 can be found here

---
Last Call 2010 (at EIU) photo gallery