2010 USA Ultimate Youth Club Championship Tournament
Aug 14-15, 2010 - Blaine, MN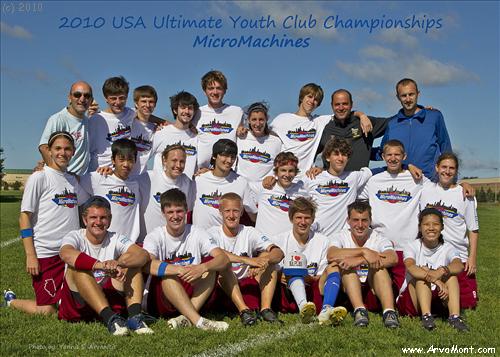 Click on the above image to load a file suitable for printing at 5"x7"
(you should be able to print it at home or your local digital photo lab)
This was the 'main event' of the summer for the MicroMachines. 6 games in 2 days to determine their national ranking. They finished the weekend 3-3 (ranked 3rd in their pool and 5th overall). More importantly, they demonstrated their love for the game, their competitive intensity, the Ultimate Spirit of the Game, and an unyielding ability to have fun.
I have split the photos into 2 pages to make the pages a little faster on the loads.
Below are images from day 1 (games 1-3)
This link (repeated at the bottom) is to day 2 (games 4-6)
I hope you enjoy them, and feel free to make copies for personal, non-commercial use.
Day 1
---
(Clicking on an image below will bring up a larger version of it.)
Game 1 vs DiscNW (Seattle)

Lost 11-6

Whoo hooo!!!

Seattle player makes a nice play

Through the 'cup'

D - tipped it just enough to mess up the Seattle catch

(I also loved all the photographers in the background)

Good effort on the defender's part, though a little late :-)

Organizing the Pull

Funky celebration ritual that culminated in an aerial High-5

Post-game Spirit Circle. (I like that USA Ultimate does this after the games in their tournaments)
Game 2 vs BUDA (Boston)

Lost 13-5

Only a few photos from this game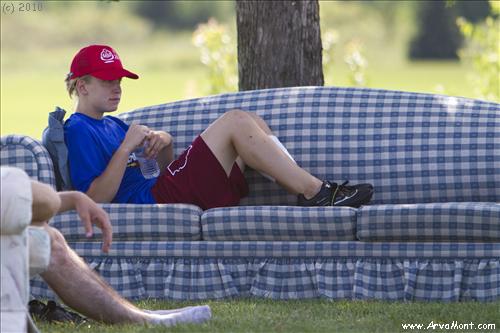 Relaxing on a shaded couch during a break in the schedule.
Game 3 vs Denver

Won 10-9

A close game with a hard-earned victory.

Big D contributing to our victory in game 3

It was a close, competitive game - each point was well earned and greatly celebrated

Oops - guy sky'd a girl :-)

(don't worry, the girls get revenge later)

Oops - girl sky'd a guy :-)

He made up for getting sky'd, though, with this awesome layout!

Intense D

Another awesome layout! He even cooperated by facing me :-)

Preventing the high release?

Great effort (too bad I couldn't get the disc in the frame)

Going up for the catch...

...and getting whacked (inadvertently).

I liked the symmetry of these two in the air

Side note: Steve's 400mm gave me 'lens envy' ;-) He was the tournament photographer...his website is at: www.elemenoP.us/f-go.html

Game winning catch....

...tumble...

...confirmation it's a point...

...and celebration!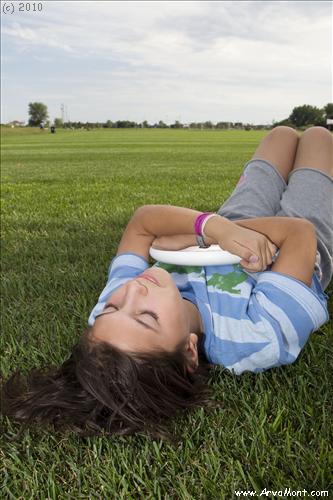 Tasha's little sister enjoying the end-of-day peace.
That was it for day 1 - use the link below to see day 2
---
Youth Club Championship Tournament - Day 2 Photos
Mad-disc-on Tournament (Aug. 2010)