2010 USA Ultimate Youth Club Championship Tournament
Aug 14-15, 2010 - Blaine, MN
This was the 'main event' of the summer for the MicroMachines. 6 games in 2 days to determine their national ranking. They finished the weekend 3-3 (ranked 3rd in their pool and 5th overall). More importantly, they demonstrated their love for the game, their competitive intensity, the Ultimate Spirit of the Game, and an unyielding ability to have fun.
I have split the photos into 2 pages to make the pages a little faster on the loads.
I hope you enjoy them, and feel free to make copies for personal, non-commercial use.
Day 2
---
(Clicking on an image below will bring up a larger version of it.)
Game 4 vs Fayetteville (Arkansas)

Lost 13-7

Great defensive effort

Fayetteville thought a "Wind Break" would improve their chances of scoring when playing into the 20 mph winds

Going up on D...

I also found the symmetry of the next 2 frames interesting...

...symmetry #2
Break between games

The team shot was very popular with the fans :-)

Ad hoc portrait studio...he wanted his picture taken :-)
Game 5 vs Minnesota

Won 9-8

Pre-game entertainment...virtual matador

Great height on this catch

One of those 'aerial high 5s'

I liked how the guy on the sidelines was also jumping up for the disc :-)

An awesome effort by a Minnesota player

I think he has a formal after the game :-)

The concentration and intensity of these young athletes is impressive.

Oops - it looks like the wrong guy jumped :-)

Game winning catch against Minnesota
Game 6 vs Madison (WI)

Won 11-8

So close! (I liked the expression and clumps of flying grass)

Not really sure what they were doing - just some fun during a break in the action.

Wheeeee!!!! Look at me, I'm an airplane flying alongside the disc :-)

A different angle on the 'Pull'

Game winner against Madison...tracking it....

...going up for it (but the wind played some games)....

...not giving up...

...getting the disc....

...and bringing it in for the point!

Celebrate!

Celebratory team hug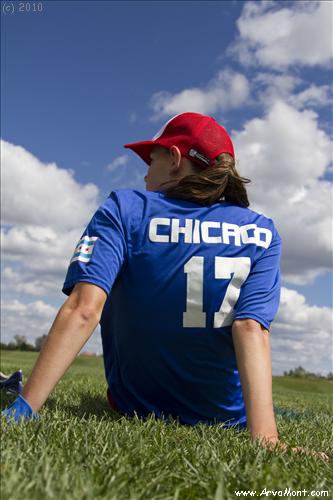 Tasha enjoying the end-of-day peace.

---
Youth Club Championship Tournament - Day 1 Photos
Mad-disc-on Tournament (Aug. 2010)