---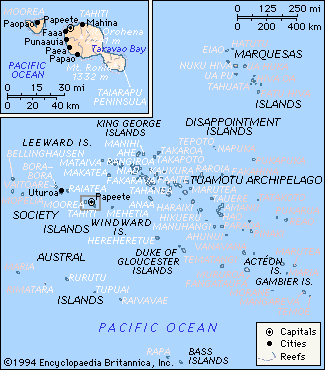 First for a somewhat clinical definition of French Polynesia, from Encyclopedia Britannica:
... a collection of island groups in the south-central Pacific Ocean. Included are some 130 islands, divided among five archipelagoes, scattered across the Pacific ... There are five distinct groups of islands, all protrusions of parallel submarine ridges trending from the northwest to the southeast.1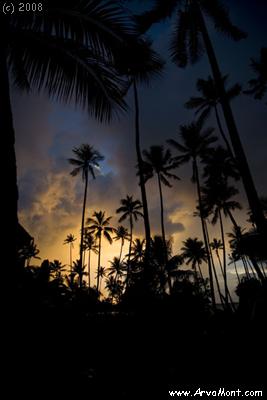 We worked hard to get Tahiti included on our itinerary, and we are all glad that we did! This is a glorious place, despite being here in pretty much the wrong season! It is the tail end of the rainy summer season here, but the rain, when it comes is really just a relief! People don't even really take too much notice of it. One day we were eating at an outdoor restaurant when the rain started - no one budged.
The water here is wonderfully warm, you could swim all day. Of course swimming all day has a few side effects that may be undesirable. First, there is the problem of sunburn. We have taken to swimming shortly after sunrise, before breakfast. Then a quick shower and off to breakfast. After breakfast we make liberal use of sunscreens. Second, there is the problem of pruney fingers and softened fingernails. The fingers come back to normal quickly, but you have to be careful with the fingernails for at least an hour, as they bend back very easily!
Speedy link to Sharks, Moorea, Underwater, Fish, Coral, On the Sea Floor
Tahiti
We did not spend much time on Tahiti. Papeete is where the international airport is, so almost everyone comes through there. (Well, probably the private jets that we saw on the tarmac in Bora Bora and Moorea could bypass Papeete.)
Bora Bora
Bora Bora is about 50 minutes flight (on an ATR, Yannis feels it is important to mention) from Papeete. This is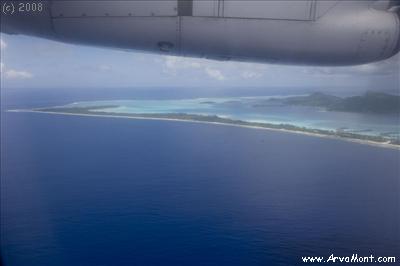 our first view of Bora Bora.
Bora Bora is an island surrounded by a coral barrier and smaller islands called motus. The airport is on one of the motus north of the main island. From there Air Tahiti runs a ferry to take passengers to Vaitape, the main town on Bora Bora.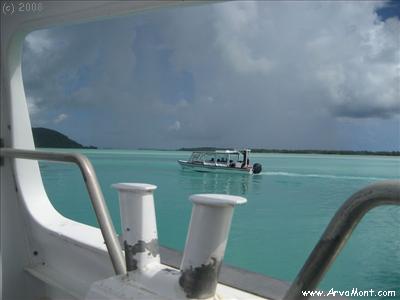 On the ferry.
The ring of coral protecting the island is interesting. You can see the ocean waves breaking on the coral, but it is usually quite calm inside the lagoon.
A motu My idea of paradise (of course sitting in it I did get a little wet!)
Anika, in her element! ArvaMont World School is in session
Windsurfing
We chose to stay in an all-inclusive resort. This means that we did not have to worry about where our next meal should come from. It also means that all of our activities were also included. So we sailed on a catamaran, we kayaked, we snorkeled and Tasha convinced Yannis and Anika to give windsurfing a try.
Anika, up and moving forward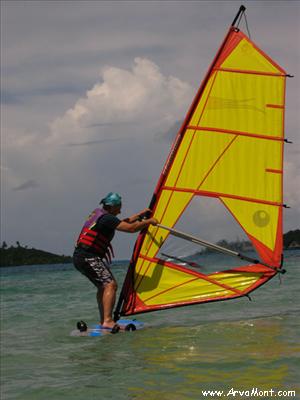 Yannis on the go, too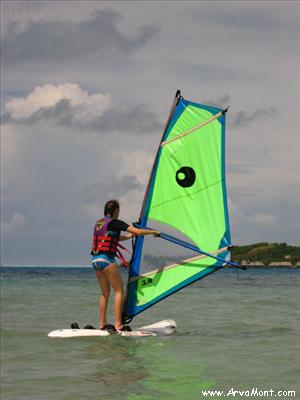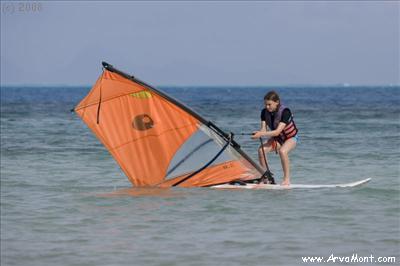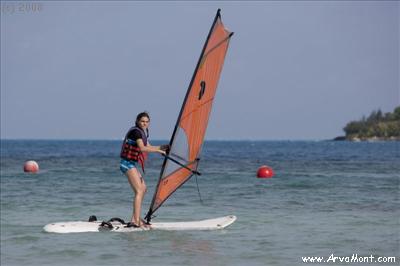 And Tasha, who not only moved, but figured out how to steer.
Star Gazing
Can you see the Southern Cross above? Mouse over it and I'll point it out.
A Polynesian Fire Show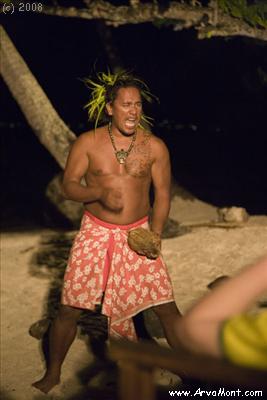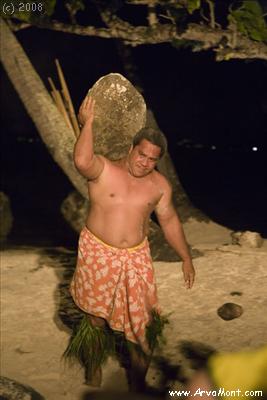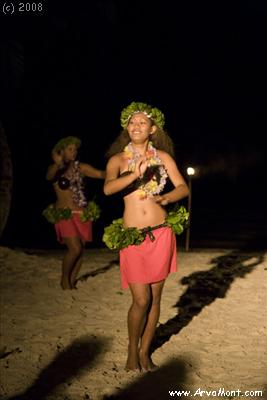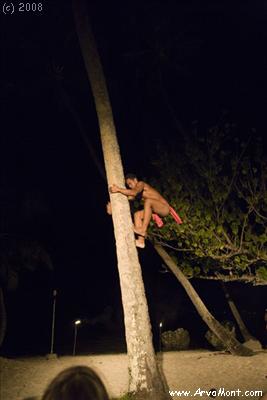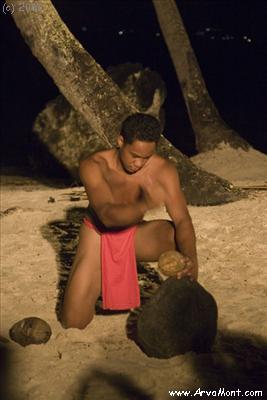 Mouse over to see what happens.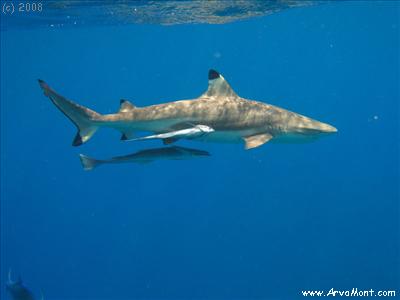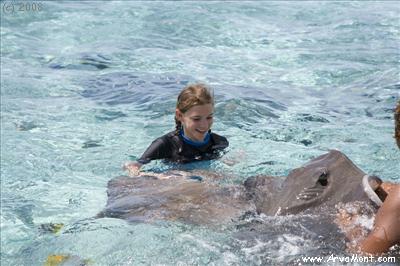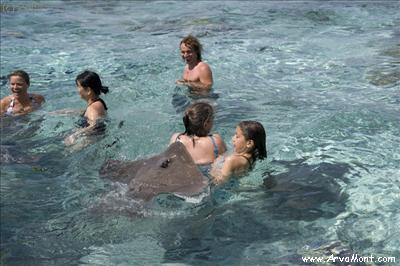 Anika gets bitten by the ray...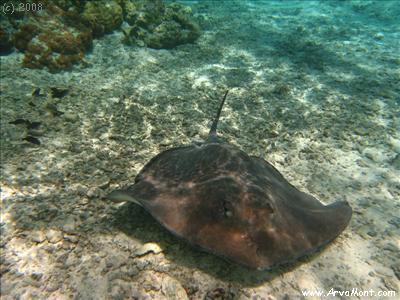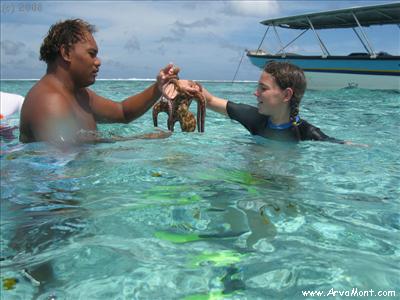 Tasha is stuck on an octopus.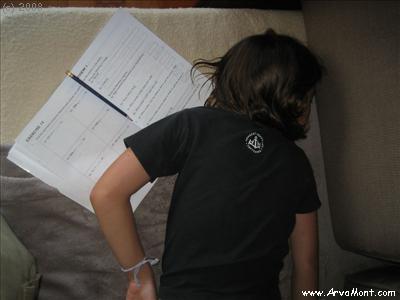 Ah, World Schooling is so exciting sometimes!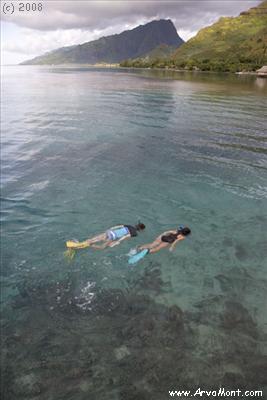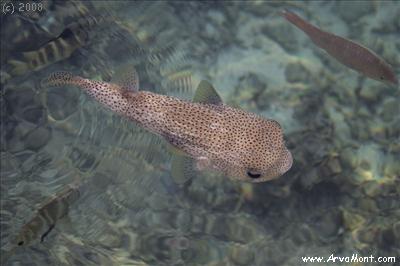 Our favorite things to watch from the porch.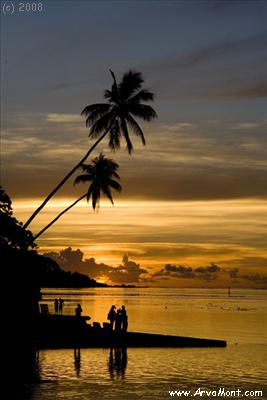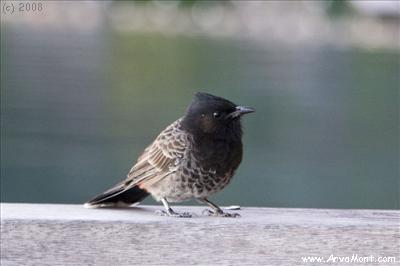 People
These photos are thanks to our friend Patrick who lent us his very fine underwater camera. Thanks Patrick!
Oops: It was time to jump into the water. Tasha neatly folded her bandana to keep it dry and clean and placed it into her pocket. Then she jumped into the water, forgetting to leave her pocket (and thus her shorts) behind!
Anika explores the coral garden just off the pier at the resort.
We kept meaning to get a group photo, but alas, this is the best we could do.
(I am not sure that I will have enough room in my bathroom for all these.)
Both of these last two things were quite deep.
These are fun to play with. You wave your hand at them and they retract.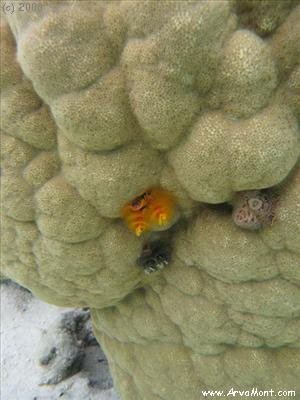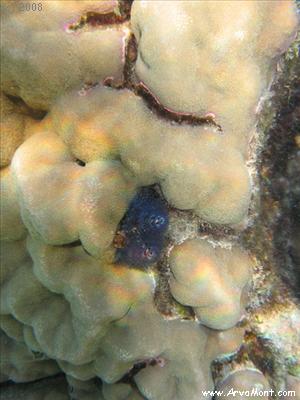 These clams are also fun to play with (they close slightly). Look at the beautiful colors.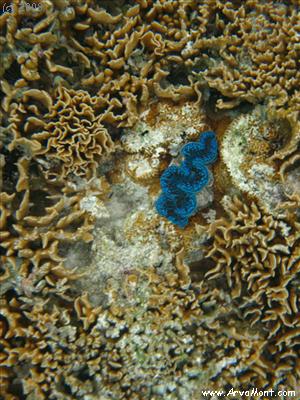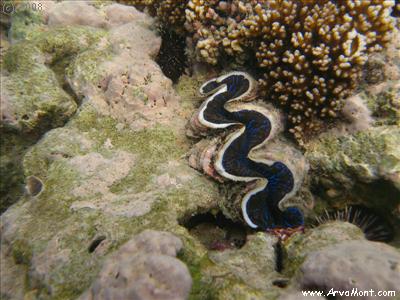 These urchins are huge!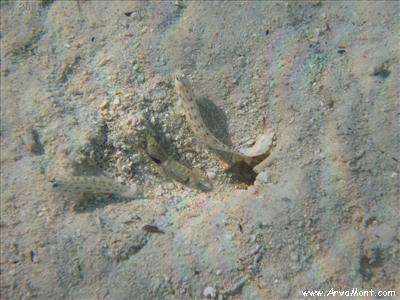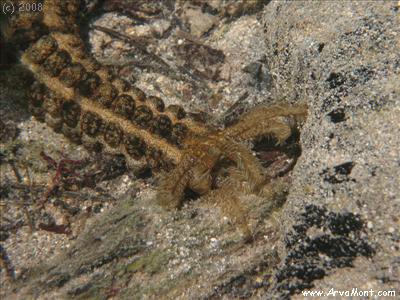 < We enjoyed watching these guys. They were all over! There seemed to be two lookout fish sitting outside a hole being maintained by a shrimp-like character. If they spied us, they would dart into the hole, and they and their builder crustaceans would stay hidden for a while.
>We called this guy a hydra, no idea if that is right! It has a long body - like a garden hose - and then these tentacles that spread and search for food.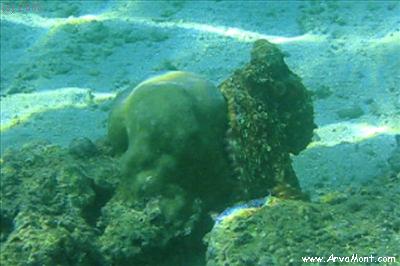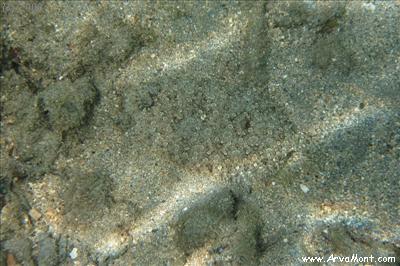 What is this? (Click on the picture to watch the video - caution - BIG file!)>
< Master of camouflage...can you spot the fish? (Mouse over if you need
assistance. Click here if you want to see a larger image without mousing over.)

1 "French Polynesia." Encyclopędia Britannica. Encyclopędia Britannica 2007 Deluxe Edition. Chicago: Encyclopędia Britannica, 2008.