[Home]
[Up]
[North Island]
[Canterbury]
[Southern Scenic Route]
[Fiordland]
---
They let us into New Zealand, phew! First, an official questioned Anika. Under the heading "Occupation" in her immigration form she had written "kid." The fellow looked at her form, took a long look at her and said, "I do not think you will grow up to be a goat. I shall change your entry to "Child," then carefully proceeded to do so. Then it was time to pass through customs and quarantine. Since New Zealand is a series of isolated islands, it is possible to keep out agricultural and environmental pests, so their checks are extensive. When you are filling out a form it is sometimes very clear what the "right" answer is. Well, on the customs and quarantine form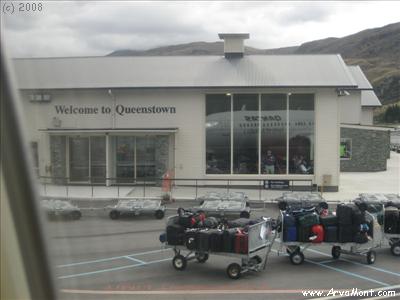 there were 8 questions and the "right" answer was "No." We marked all 8 as "Yes," needless to say, we spent some time with a friendly inspector, who disinfected our boots and looked in our food bag, confiscating only a small container of honey, and asked us where we had been in the last month... But like I said, they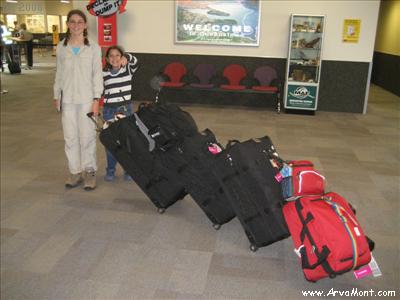 did let us in!
The airport baggage train
Our baggage train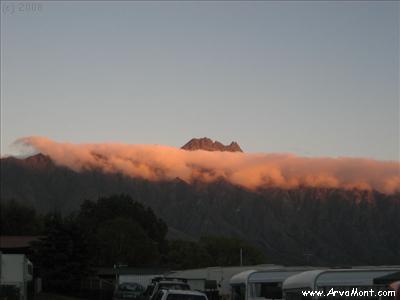 Isn't that view glorious?
Anika had been counting down the days until New Zealand. We rented an RV and planned to travel all about for three weeks. Furthermore, friends from back home came out to join us. Here is our home in New Zealand. We had our own refrigerator, and a stove, sink and microwave. It had been a very long time since we had been able to really be in charge of our own food. And what fun to be driving along a highway on the way to some new remote place, and decide it is dinner time. Pull over, turn on the gas and voila a glorious dinner.
So, what did we see and what did we do? Have a look!
From New Zealand we traveled to Tahiti.