---
Pune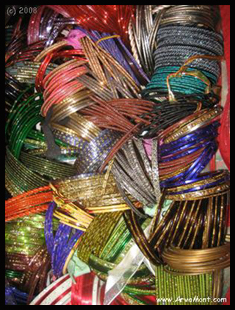 In Pune, a town 3 hours mostly east of Mumbai, it was our privilege to stay with family friends, Alka and Ravi. We enjoyed our time there immensely.
Getting to Pune was an experience in and of itself - apparently we were breaking in a relatively new driver! While we don't speak any Indian languages, it was clear upon leaving the airport that he began asking everyone, including rickshaw drivers while in motion, how to get to the highway to Pune! Invariably the answer was to turn around and head back in the direction we had come! At 5 a.m. (actually 1:30 a.m. our time, given the time change) this was a little disconcerting! Luckily on the return trip we had an excellent driver and no such excitement!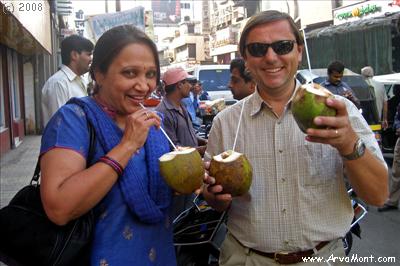 Yannis and Alka toasting to a great visit in India with coconut water.
Yannis was in need of a new pair of jeans. (His jeans finally became too worn in Jordan - which will happen when you wear them almost every day for 7 months!) So, Alka took us shopping. He found a pair that were a tad long. The salesman said not to worry, they would fix it. So in the time it took to drink this coconut water, Yannis' jeans were hemmed!
On Sunday, it was time for a picnic in the country. Alka's grandparents lived in a small town about an hour outside Pune, so this is where she spent her summers. First stop: The old estate. This is a fortress, including 40 foot high walls all around, on which you can still see cannon ball scars! The door into the fort was at the top of a steep stair, and it was covered with 9 inch long spikes. Ravi explained that this was important in the old days to protect the door from elephant attack! They cannot run up to the door, because of the stairs, and they cannot fling themselves at the door because of the spikes.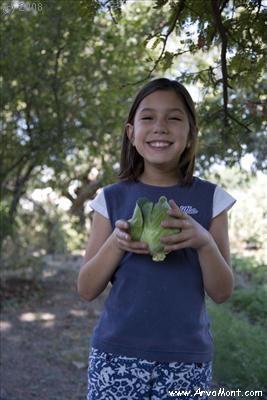 The farm itself is still working. We picked, amongst other things, cabbages!
On the way home we stopped off at the Command Hospital for a quick photo of where Simmi was born. No better photos were possible, as a very tall, fierce looking Sikh officer approached Yannis and told him that photography was not permitted on base!
The next day we visited some of the factories that Alka and Ravi manage.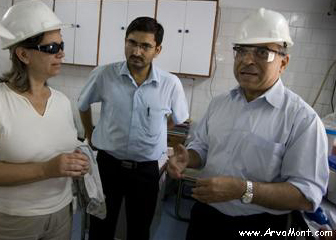 The first factory recycles silicon into silicon oil.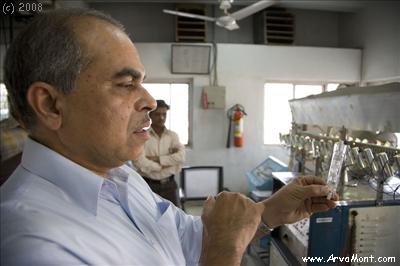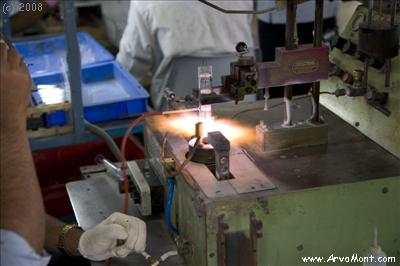 The second makes sodium lightbulbs.
Anika discovered that she is not a big fan of Indian food, though she did try many things, and does like small portions of sauces for dipping. However, Anika LOVES chapatti! At one meal she ate 8! Of course, if that is all you are eating, perhaps it isn't quite so outrageous!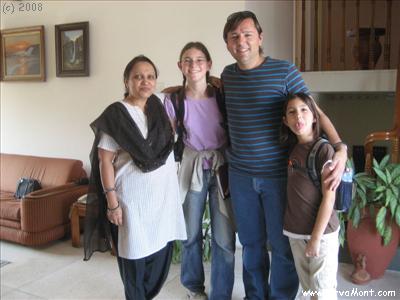 A quick photo before leaving for the airport. (Thank you for the nice face, Anika!)
Delhi
Due to flight and train times, our time in Delhi was very short. Nonetheless we got to visit Humayun's Tomb, also called the "Little Taj."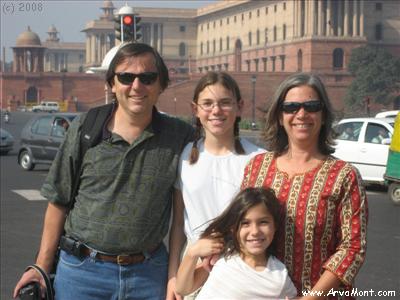 And the capital.
A family outing. We are a spectacle for Indians. This gal asked if her family could have their picture taken with us!
We spent a week on board a train traveling predominantly though Rajasthan.
Days 1 - 3: Delhi, Jaipur, Jaisalmer
Days 4 - 7: Jodhpur, Chittogahr, Udaipur, Agra (also tigers and birds)
Varanasi is the oldest (or one of the oldest, depending on who you believe) continually inhabited cities in the world. It is commonly thought to be 3000 years old, though it's exact age is unknown. Mythologically, it is held to be 5000 years old. Varanasi is considered holy by Hindus, Buddhists and Jains, and is the site of pilgrimages for all three.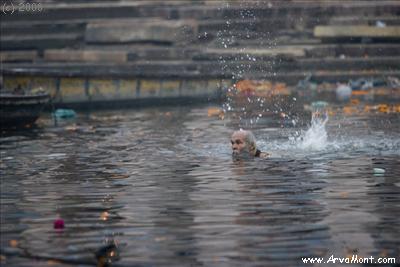 Hindus believe that bathing in the Ganges remits sins and that dying in Varanasi ensures release of a person's soul from further reincarnations.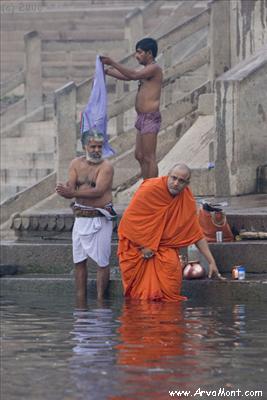 This leads many older people, particularly sādhus, to travel to Varanasi. (A sādhu is a man who has fulfilled his duties in life (studying, parenting, pilgrimage) and then renounced position and family to move into this fourth and last phase of a male Hinduís life.) There is also an advantage to being cremated in Varanasi, or if cremated elsewhere to having one's ashes spread in the Ganges in Varanasi. We learned in Rajasthan, that in many towns people's ashes are kept in a temple until someone from the town decides to travel to Varanasi, and takes all the ashes to spread on the Ganges. We were told that this is because at Varanasi the Ganges travels from north to south, and the soul should travel to the south.
Varanasi is one on the four pilgrimage sites designated by Gautama Buddha himself. It is here that he gave his first sermon around 500 BCE and where he met his first disciples. In Jainism, it is believed to be the birthplace of Parshvanatha, the 23rd Tirthankar (or teacher), born in the 9th century BCE.
To make it more religiously interesting, several waves of mogul invaders tried to make Varanasi Islamic. So for a period of about 600 years beginning in 1033 various temples were destroyed and used to build mosques, which were destroyed and used to build temples. The last of these mosques, the Alamgir Mosque, built during the reign of Aurangzeb, still stands, though it is one of three mosques that are at risk from Hindu fundamentalist as it was built on a Vishnu shrine.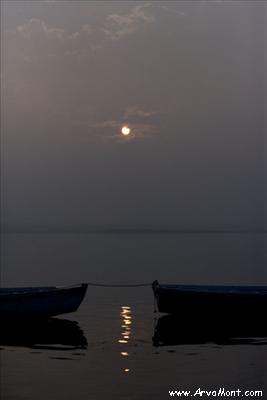 So that is all well and good, what does one do in Varanasi? One goes out on the Ganges to watch the sun rise, of course. Unfortunately, the day we were there it was misty and overcast, so no spectacular sunrise. (However, the day before, and for 20 odd days before that, the boat drivers were on strike, so at least we got to go out on the Ganges!)
But floating up and down the Ganges is a surreal experience, perhaps more so in the mist!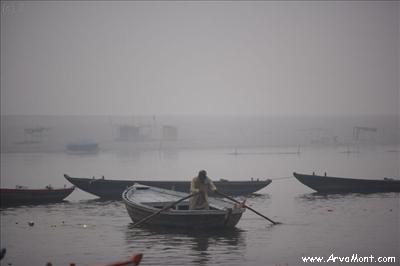 Walking down to the Ganges, through the narrow winding streets overflowing with people, a mist hanging in the air, is strangely disquieting.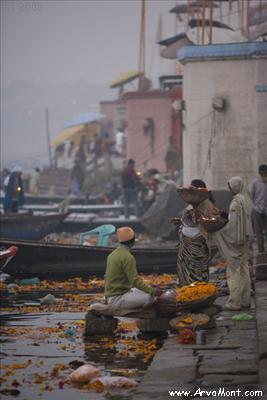 The river is built up with ghats, which are wide stairways down to the river, on the west side, and completely empty on the east side. All along the river, on the steps there are people washing and people praying and people milling about. Lots of people in orange robes.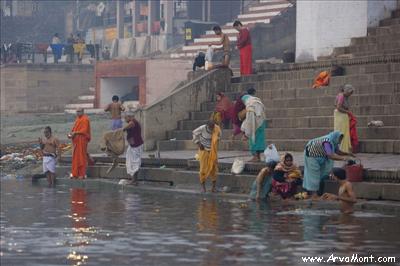 In the middle of the river float hundreds, perhaps thousands of flower encircled candles.
We float down the river a ways, surveying all the various ghats. If you are a pilgrim, you may stay in a ghat for free. Many of the ghats are owned by different municipalities throughout India and you would probably stay in the one for your region.
There are two ghats devoted to cremations. In order to cremate, you need a body, wood and a flame. You can bring the body and the wood with you, but you must buy the flame from the flame ghat. The cost of the flame depends upon your means.
In order to see the mosque and temple in Varanasi, you must first leave behind everything and then pass through security. Then you are in the general area where the mosque and a Hindu temple stand right next to each other. You can only enter the mosque if you are a Muslim. You can only enter the temple if you are Hindu. And no photography is allowed. So why we went to the effort to get close I do not know... The security is clearly a result of the bombings in Varanasi in 2006, as well as a fear of a repeat of what happened in Ayodhya 1992.
From Varanasi we traveled back to Mumbai and then on to Bangkok.