---
The Palace on Wheels - "a week in wonderland"
Day 1 - Delhi
Welcome to our home for the next week: The Palace on Wheels - a "cruise train" if you will. Coaches converted to rolling hotels (with 4 rooms per coach plus a little lounge common area. 2 dining cars used mostly for dinner plus a saloon available for drinks and hanging out. The rooms are snug, but have their own bathrooms with shower so they really are like tiny little hotel rooms. And the train cruises through some of the more interesting parts of Rajasthan.

Upon arrival, everyone is treated to a grand welcome.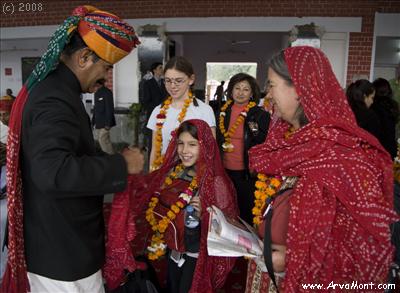 Day 2 - Jaipur
The elephants welcomed us.
Palace of the Winds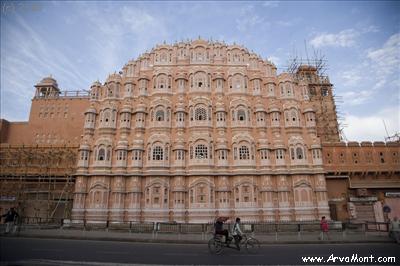 Despite its name, this is no palace. Apparently the Maharaja wanted the ladies of his harem to be able to watch the spectacular parades he organized. Since the women of the harem were not permitted to be seen by anyone outside the harem, even in veils, he built this facade right along the parade route. From behind these windows, his ladies could watch without being seen. The girls and I had ample opportunity to try to "see" through these cement screens, and let me tell you, they may have been able to see, but certainly they weren't seeing well!
Jaipur City Gate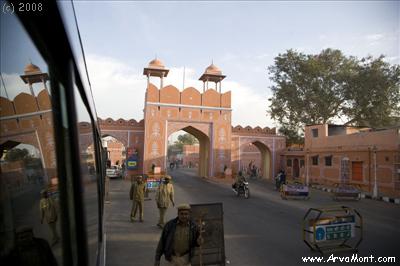 Our guide seemed quite proud of the newly restored gates to the city of Jaipur! He mentioned them at least 4 times.
The Amber Fort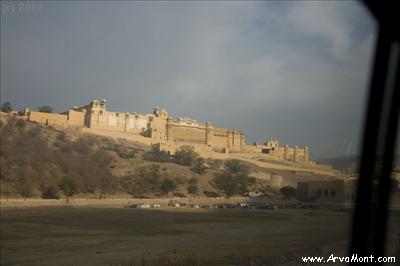 The best way to get up to the Amber Fort is on an elephant! This is definitely far better than the way we came down!
In honor of our elephant ride, Horton (the little elephant in Anika's hands) got to come with us. He made Ozzie and Milligan so jealous, that Anika had to promise to bring them along on other days!
I love the "fussy" architecture! It is simply captivating!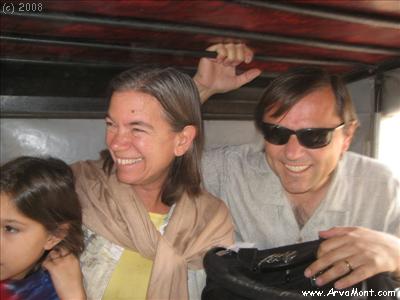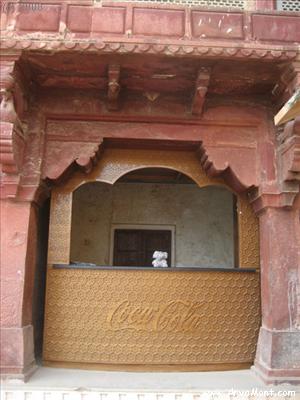 <<< Okay, this was a little out of place in the courtyard of the Amber Fort!
>>> Here we are coming back down from the Amber Fort - our driver was practicing for the Grand Prix! And the head room was tight, even for Newenka!
Handicraft Demonstration and Morning Tea Stop
This is a euphemism for shopping, yuck!!!
We stopped mid morning to learn about fabric printing and carpet weaving. This means 5 minutes watching the printing and the carpet knotting and 45 minutes locked in a room looking at carpets, followed by another 30 minutes looking at fabrics.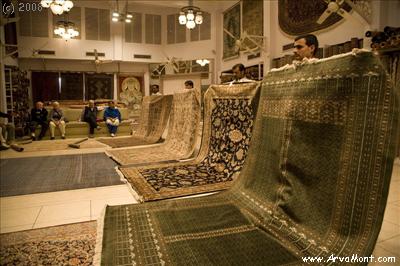 Lunch
Horton gets to pose in front of Ganesh. Isn't he having a great day?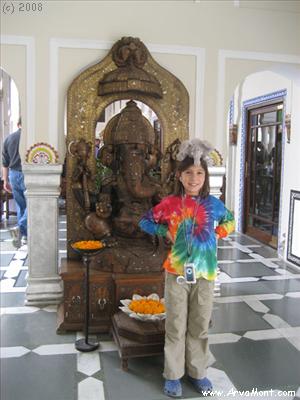 City Palace Astronomy Garden
The Maharaja was a bit of a science nut, and so he had 30 different astronomical instruments built in this garden. He had the largest sundial in the world. It could tell the time within 2 seconds! The one above left could only tell time to within 20 seconds. (The bigger one was being maintained when we were there.)
Handicraft Demonstration and Afternoon Tea Stop
Yep, still a euphemism, though at least in the morning it wasn't hard to get a cup of tea!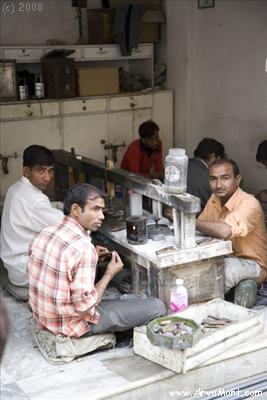 These guys are polishing gems. Inside, you could buy every imaginable type necklace, with any gem stone mounted in it.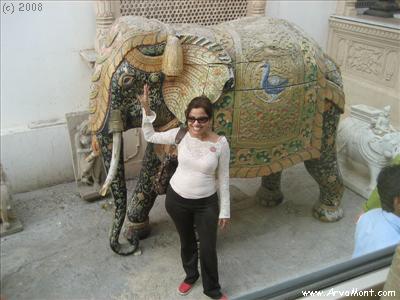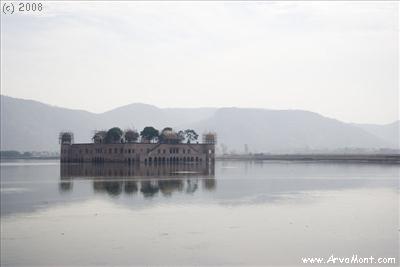 Around Town
Sure, India has cool forts and amazing architecture, but the thing that really strikes us about India are the cityscapes. Have a look!
Yep, that's what they are doing, everywhere, all the time.
Various means of transport: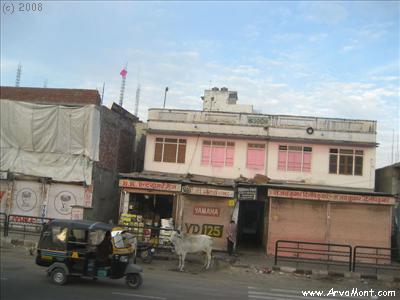 A cycle-rickshaw, and an auto-rickshaw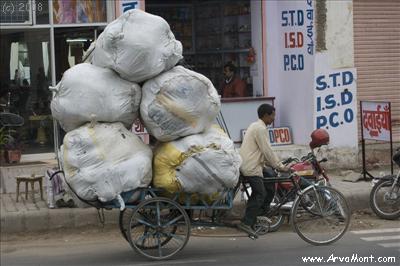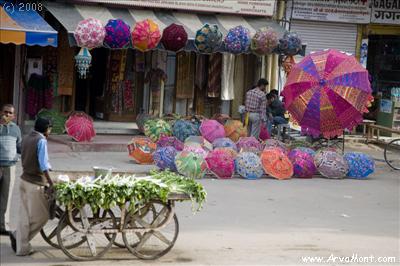 A fully loaded rickshaw, and a handcart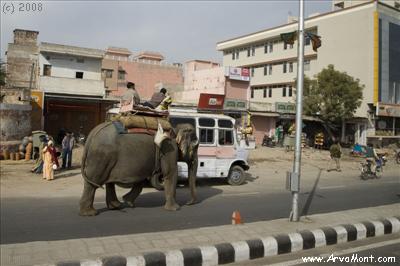 Elephant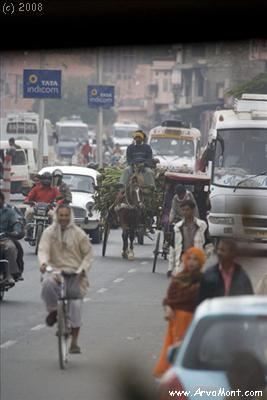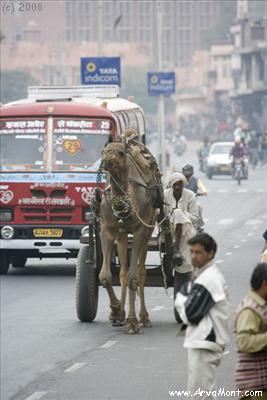 Horse cart, camel cart, truck, two-wheeler
On the Bus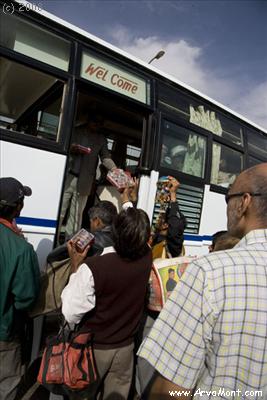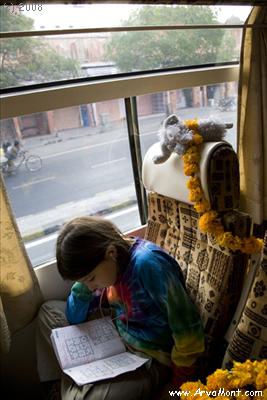 Anika amuses herself on the bus between sights!
Once the bus stops, the hawkers converge (though these hawkers are relatively polite compared to those in Egypt)!
Day 3 - Jaisalmer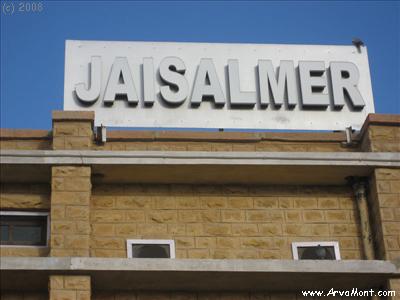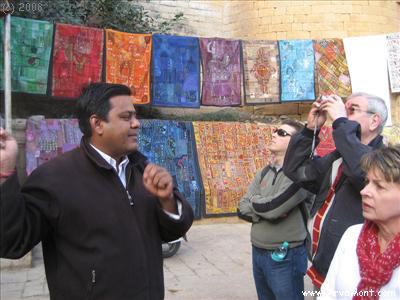 This is our guide, Lalu. (No, really, that's his name and he did not strike any of us as stupid - he explained that's what Lalu means. In fact, he was our best guide of the week.) He grew up in this small town, and lives here still. He explained to us that everyone knows everyone in this town, and this certainly appears to be true! Jaisalmer is an old town, originally established in 1148, but has always been a sleepy one. He explained how it became a tourist destination, and the story is a good one: on May 18th, 1974 the Indian government conducted it's first nuclear test just outside Jaisalmer. All the NGO observers and news reporters, who saw the gorgeous architecture in the town and the lovely fort, raised the awareness and made Jaisalmer a tourist destination. Since then it has been recognized as a Unesco World Heritage Site.
Jain Temple
We start our morning in a Jain Temple...
Old Town
...then take a walk through the old town of Jaisalmer.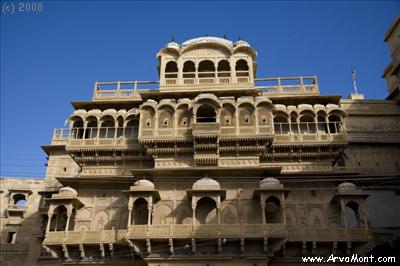 The Maharaja's palace, unfortunately it was damaged in a recent monsoon and now awaits renovation.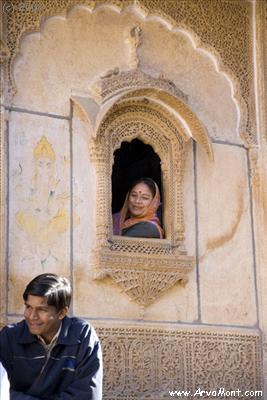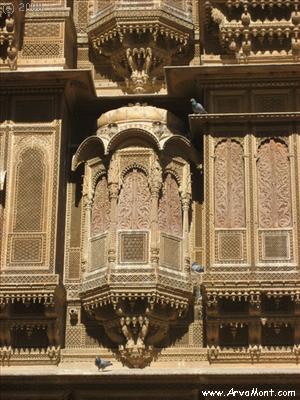 This is stone, not wood. And most of the houses in town have this level of ornate carving on at least their balconies. Apparently you can buy such a balcony for a mere $3000. I wonder what such a balcony would look like on our house :-)
Shopping time!
This time no tea was even mentioned! This is the local cooperative, and they had beautiful quilts and very soft pashminas. Unfortunately, they did not have anything like the orange quilt behind our guide in the photo above, which I though would be lovely in our house. Oh well.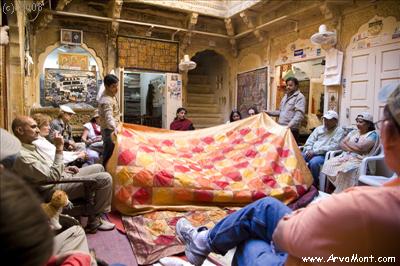 Later in the day we toured one of the most ornate houses in town, and visited their gift shop.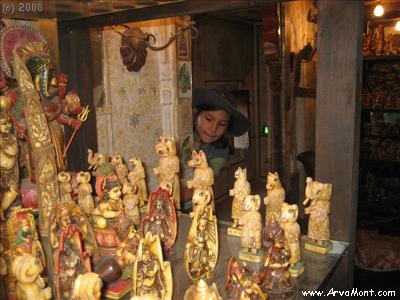 And another shopping opportunity
Around Town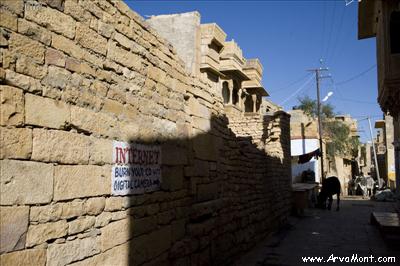 An interesting place for an internet cafe ad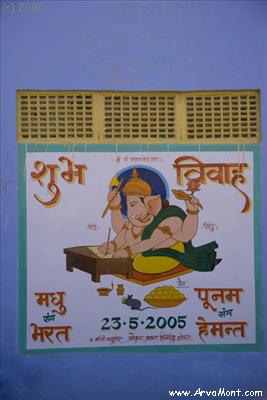 A wedding announcement. In Jaisalmer you invite everyone in town to your wedding. So to save on paper, you just paint your invitations on the wall. Isn't the Hindi script beautiful?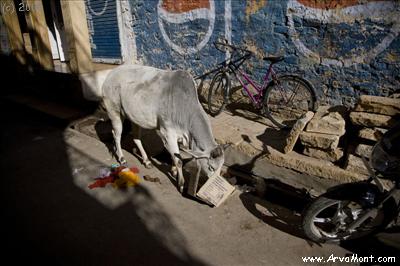 Another great advertisement.
The Sam Sands And Our Camel Ride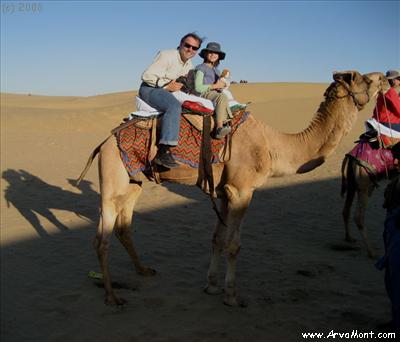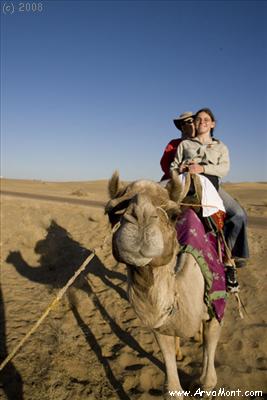 Yannis asked the camel to smile; didn't really work, eh?
Playing on the dunes
Classic dune scenes
That only covers 2 days on the train, so this page is continued!