A Quick Trip to India
The day after Thanksgiving Steve, Newenka's father, ended up in the hospital in Bangalore, India. The entire rest of the family had gathered to eat turkey at Newenka's sister Kivi's house. It took a couple of days to assess Steve's state, as he seemed to be doing very well, and an appropriate course of action, but in the end Barbara and Newenka ended up getting on a plane to (or back to) India.
Home At the Taj Whitefield
Here are some photos of Barbara's apartment in the Taj Whitefield. This is where we sacked out after 26 hours enroute and arriving at 1:30 a.m. Actually it works out pretty well, jetlag-wise.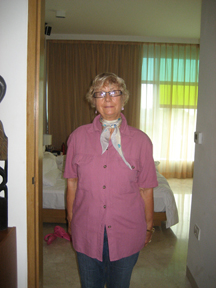 Welcome to Barbara and Steve's apartment.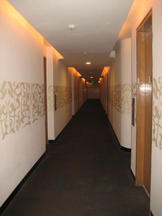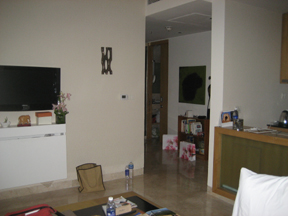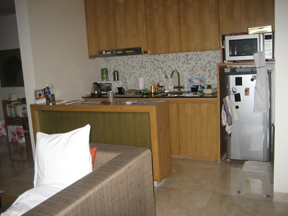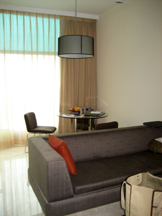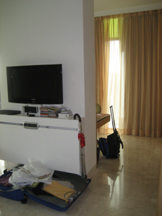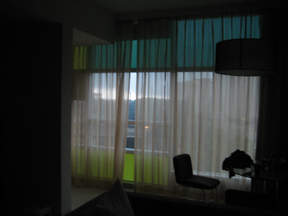 The view out the window, early in the morning
Driving Around Bangalore
Our daily drive to the hospital averaged about one and a half hours, each way. Of course Friday night it took us 2 hours to get home. We made a point of not traveling during rush hour.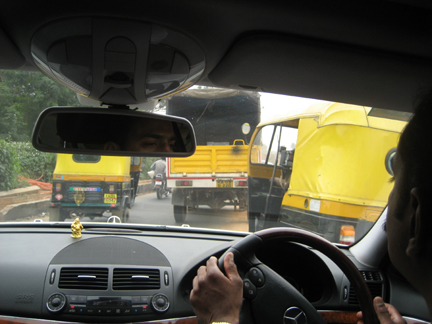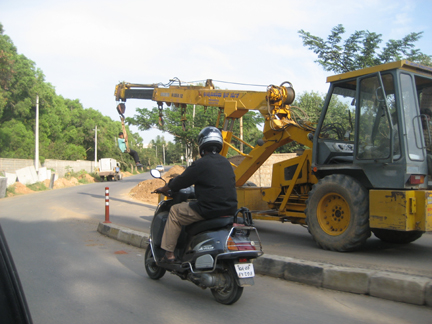 Wockhardt Hospitals
Steve and Barbara have both been using the doctors and services of the Wockhardt Hospitals in Bangalore. So this is where Steve asked to be taken on Friday morning. Wockhardt has been building a reputation for medical tourism. In fact when we arrived at 1:30 in the morning, the director of foreign guests happened to be at the airport picking up three patients, two of whom were in wheel chairs. He made a point of coming over and introducing himself to us in the parking area as we waited for our driver to bring around the car.
Steve in prison garb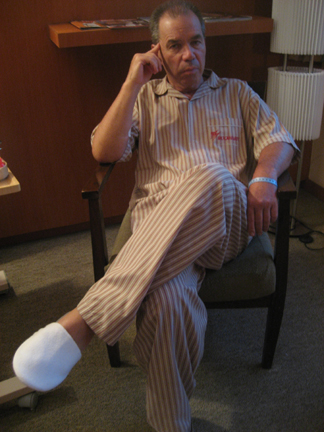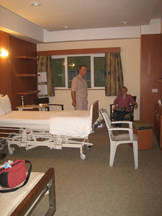 Steve's room, and his view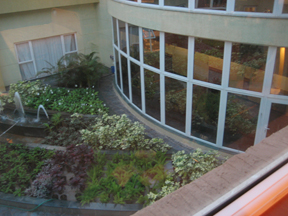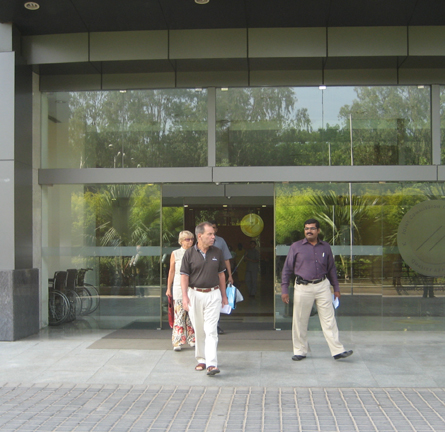 Steve leaving the hospital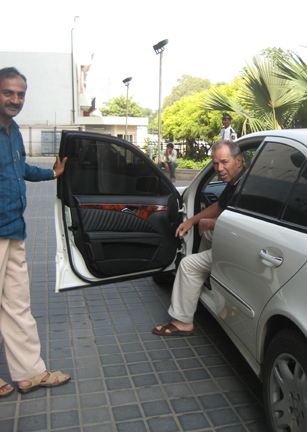 Around town in Bangalore
One of the favorite ex-pat hangouts in Bangalore seems to be the Leela Palace Hotel Mall. This is where Steve wanted to go after he was checked out of the hospital. Once we got there we figured out why - he needed a hair cut! But Newenka used the opportunity for some Christmas shopping.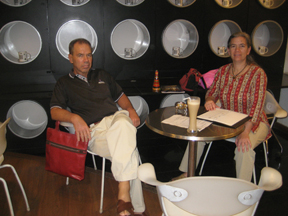 At the book store, having afternoon tea (and ice coffee).
In the entrance way, posing as statues.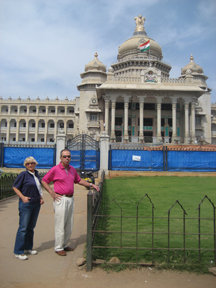 The Parliament Building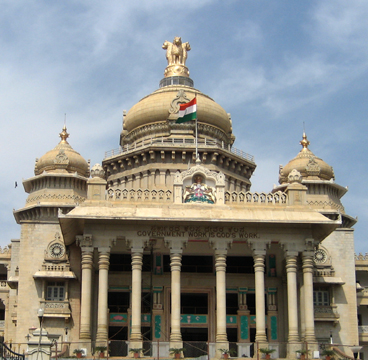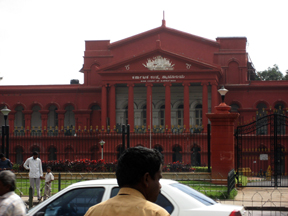 The Court House The Kings Palace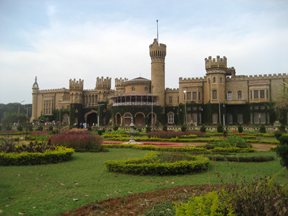 The Harley Davidson Rally outside the King's Palace: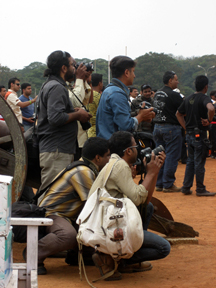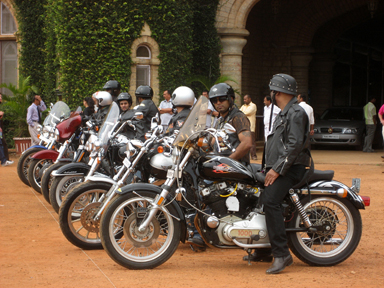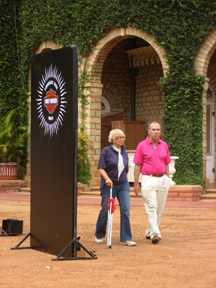 The Garden of the Kings Palace: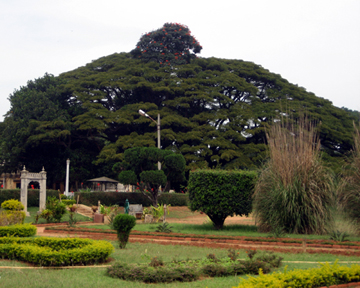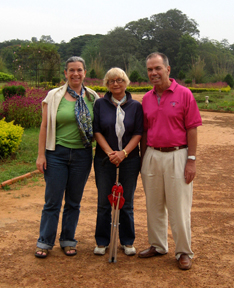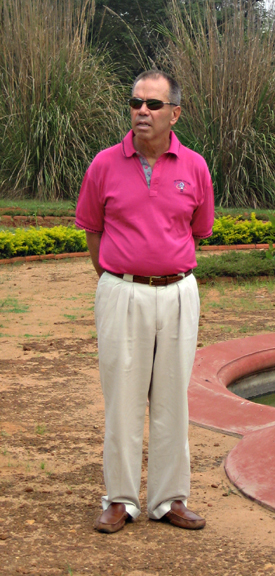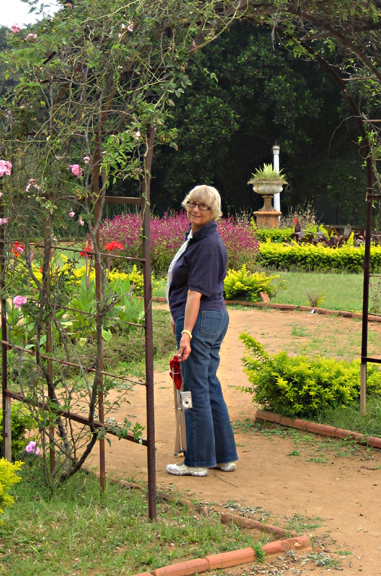 Afternoon Tea in the Tranquillatea Garden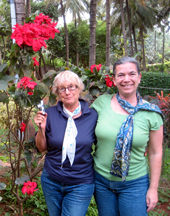 One poinsettia, one fig