WFDF World Junior Ultimate Championships 2012
Dublin, Ireland - Aug. 12-18
---
I had the privilege of attending the WFDF(*) World Junior Ultimate Championships in Ireland with my daughter (Tasha) and her team (Team USA!). The tournament is like the World Cup of Ultimate and is held every 2 years. This year, 15 women's teams from around the world competed. I offered to photograph for the Women's Team USA and post photos for them to see and share, so for 6 days, we pretty much ate, drank and slept Ultimate as the US team first played pool games against 6 national teams from all over the world, then faced an elimination round against the national team from Germany, and ended with a championship game against #1 seed Colombia.
(*) WFDF = World Flying Disc Federation (international governing body for Ultimate 'Frisbee' sports - Frisbee is a registered TM of Whamo corp).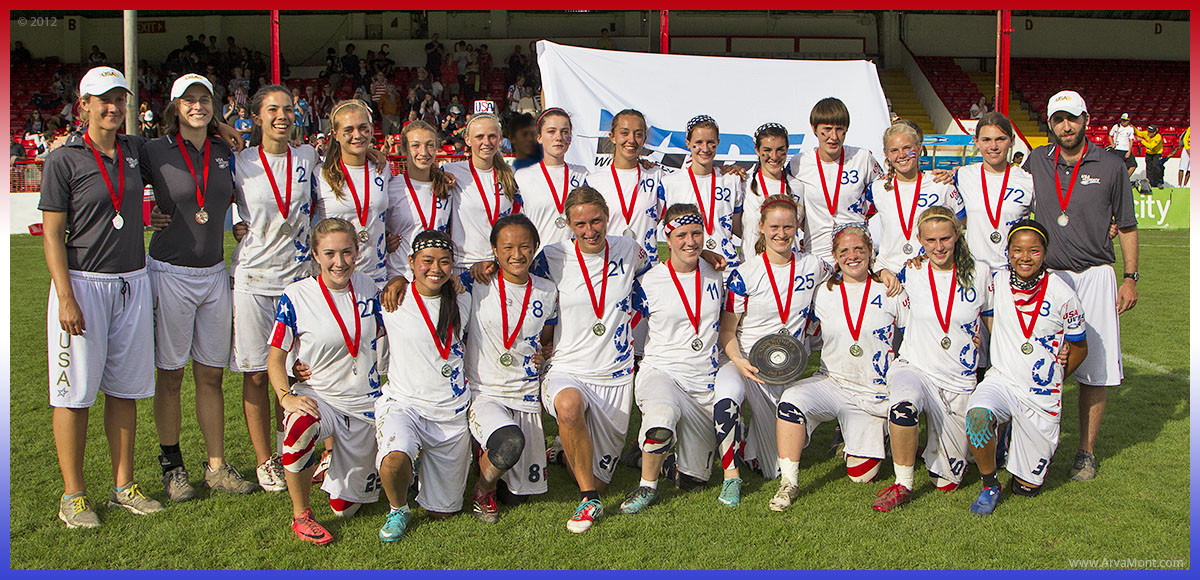 Below are links to the individual pages for each day of action. I hope you enjoy them.
Days 1 & 2 (Israel, Great Britain, Australia & Russia)
Day 3 Photos (USA vs Austria U17)
Day 4 Photos (USA vs Italy, Open/Men's USA vs Italy, USA vs Colombia)
Day 5 Photos (USA vs Germany, Open/Men's USA vs Canada)
Day 6 Photos (Championship Games: Open/Men's USA vs Colombia, Women's USA vs Colombia)
Feel free to share the links to these images or make copies of images for personal, non-commercial use.
In addition to the summary pages linked above, below are some miscellaneous and random memorable images from the 6 days at the tournament.

There were many cool jersey designs - 4 of my favorites.

(New Zealand, Russia, Italy, Belgium)

How often will you get to toss a disc with your sister in front of a 900 year old castle (Trim Castle in County Meath) on your night off from the tournament?


An epilogue to the tree branch falling on the spirit circle after our game with Austria's U17 team (day 3) and trapping a couple of players from both teams. The girls are all fine and the Austrian team went on to win the championship in the U17 Women's league. Congratulations to them!

PRE (Pre-game Relief Exercise) - it must be a European man thing (get it?) since the Italian Open team used this system too (though my camera was not nearby when they did their exercise).
---