Madison Mudbath
(or, as I have come to know it, the Madison Blur-bath)

Finally...after over a month, another chance to play (and photograph) Ultimate again. The weather has been less than cooperative here, so the team hasn't had a game since that pre-season tournament in mid-March! The forecast wasn't looking good for lovely Madison, WI, however with a front settling in over the area that would keep pumping out storms throughout the weekend. But it's called a "mudbath" so we were prepared for an extended period of time in the wet outdoors.

What we didn't plan for was the tournament's decision to protect the fields from getting torn up and avoid a lot of delays and cancellations due to lightning - they moved the tournament indoors! A good decision, overall, just not one that we were prepared for - oops. No sneakers for Tasha, no indoor camera gear for daddy (yep, that shorter, faster lens was sitting nicely at home). Tasha got some sneakers at WalMart - daddy had to make due with the short lens he tossed in at the last minute intended for a couple of team shots. Well, as someone once said, when you're handed a bunch of lemons, what should you do? Do your best to make some lemonade. So, here's my attempt :-)


First off, some impressions of indoor Ultimate in a gym versus outdoor - the indoor game is very different, and both the team and this photographer had to make some adjustments. The "field" is a full-court sized basketball court. The teams play 3-on-3 instead of 7-on-7. The court looks very empty with only 6 players, but it really is a fast-moving and exciting variation of the game.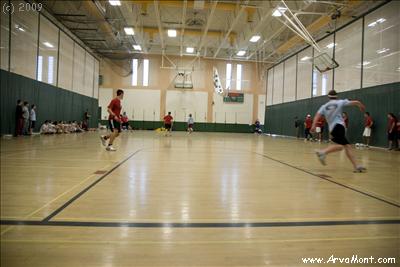 The "field" - a full-sized basketball court.
The "game" is scored like a tennis match - the teams played upto 7 "sets" of 3-on-3 Ultimate. The 1st team to 5 points wins the set and then a different group of 3 players takes the field. The 1st team to win 4 sets wins the match. With such a short "field" the sets can go quickly and a typical match lasts about 30-40 minutes.

On day 1, we played in a field house split into 4 courts. The lighting was relatively dim, so the shooting opportunities were very limited - with shutter speeds in the 1/25 to 1/60 second range at ISO 1000, the chances of stopping any action were basically zilch. Day 2 was a little better - playing in a spacious and better lit gymnasium (we were up to 1/100 second - still not action stopping, but hopefully we'd get a couple of decent shots).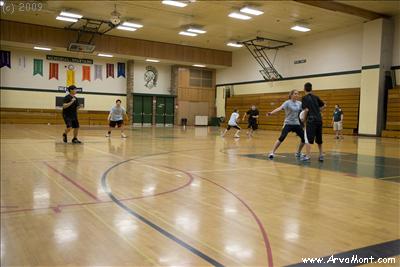 The spacious, better lit gymnasium. Fans could actually sit on a bench and watch!

So, without further ado, here are some photos from this weekend's tournament. Hopefully the blurs add to the sense of speed that is prevalent in Ultimate games.
---
(Clicking on an image below will bring up a larger version of it.)
Something about chili if I remember correctly.

Coming down with the disc - but, boy, those floors were dirty, eh?


An awesome lay out...


...much easier to create a sharp image once he's stopped :-)


Outrunning the defender to get the disc.




I found it interesting how "ho hum" this shot made them both look. This matchup was anything but ho hum.


Defense!


Ouch!


Stretching waaaaay out - tipped it just enough to prevent the opponent's catch.


This one just had kind of a cool look to it.


Made the catch for a point.

Going long....


I seemed to regularly be on the wrong side of the action :-)





"I'll take that..."




...and she means it!


Little sister keeps herself occupied.





The stretch...


...and the tip...towards me...time to get out of the way.

(I had to scramble a number of times due to my close proximity to the playing area)


It was good!


Offense...

...Defense

Our team with the Ultimate player from their hosting family. (An aspect of the Mudbath was that teams traveling to Madison had the option of staying with a local family - a very cool idea.)

That's all for this week - hopefully more Ultimate next week.
Link to our March pre-season tournament

---